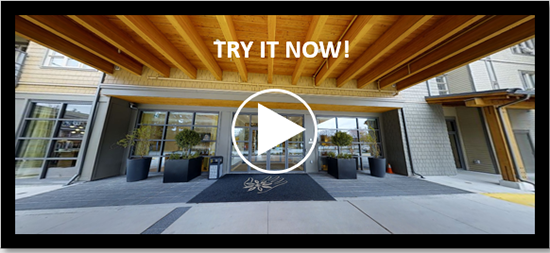 Delivering an Industry FIRST in Immersive Consumer Marketing. Bring your retirement community to LIFE – ONLINE!
SeniorCareAccess.com (SCA) launches the industry's most powerful end-to-end immersive 3D touring software available. With today's consumers being more educated, socially connected and hungry for information, the SCA 3D Virtual Tour opton elevates your brand and offers your sales team a more qualified lead! As an upgrade option to the SeniorCareAccess.com marketing program, your brand will increase the attention of any prospective resident as they perform their search – ONLINE!
---
Compare the Benefits
---
Increase Occupancy
- It's all about your occupancy rate. You need every tool in order to compete and the SCA 3D Virtual Tour delivers the most modern visual experience short of a site visit working for you 24/7.

Answer Questions
- before they're asked! Empowering families to experience your community on their 'time', allows them to explore and imagine what improved quality of life may look like. By viewing the many nuances, they are able to answer many of their own questions simply by seeing like never before.

Shorten your Sales Cycle
- As families visit and re-visit your tour, they become more comfortable with what they see and experience leading to a more qualified lead. By having this technology your community 'virtually' has an in home sales person working 24/7.

Enhance your Community's Brand
- Communities are able to share the tour within social media, websites and other promotional experiences.
Make it Feel like Home
- The more you experience something the more familiar it becomes. Families are inclined to visit and revisit the SCA 3D Virtual Tour building on their experience of your community – it will become more like home all within the comfort and safety of their current home.