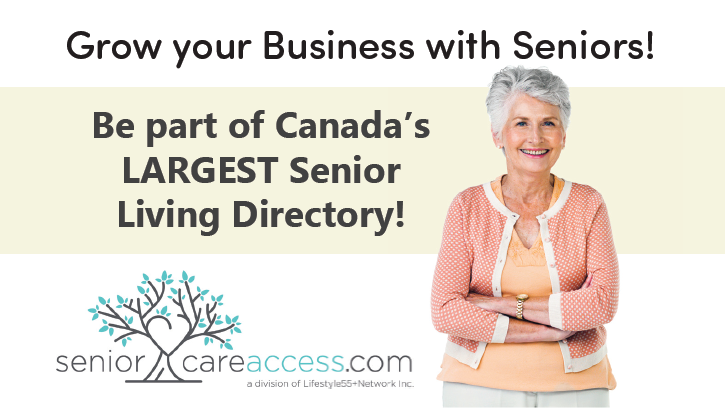 SeniorCareAccess.com has been strategically developed to offer Canadian professionals, seniors and their families a one-stop-shop for retirement housing, consulting and networking. Discover the unique opportunities the SeniorCareAccess.com Seniors Service directory offers you!

Marketing platform. Specifically designed for seniors, caregivers and professional services related to any of their needs.

Built in funnel system. System prompts visitors to identify their province and city of choice, then the type of service required. A visitor to your ad will be specifically interested in your services.

Exclusive results. We know advertisers want to be seen and not lost in the mix of ads; our exclusive results allows you to be 1 of only 4 providers in your service category for a selected city.

Push out your competition. Once the 4 ad slots are filled, no additional ad spots will be available within that service category per city. Any advertiser will receive first right of renewal options. Once the 4 placements are filled, that service category in that city will be closed to any competing advertiser unttil such time as a placement becomes available.

Even the 'small guy' can win! The 4 ad placements also offers an 'Always First, Always on Top' upgrade for 1 of the 4 advetisers. This offers them the top spot at all times. We also offer an 'Always 2nd' upgrade allowing an advertiser to remain in 2nd of the 4 positions with first right to 'Always First' should the first position not renew. Remaining advertisers are placed in rotation.

Live LINKS. You are encouraged to include your email, website or linking URL. This gives the visitor direct access to you for immediate response and follow up. We do not take any referral fees!

Maximize your exposure. We understand that most service providers also work in areas outside of a specific or small city. For each primary ad placement, up to 2 additional cities can be acquired at a reduced cost. This is only offered if there is available space in the 2nd and 3rd cities.

Greater SEO with ARTICLES. You're a professional and you have things to say, visitors and search engines want to hear from you. That's why we offer the Article Library FREE for any site visitors. Each ad placement is entitled to submit up to 2 informative articles to be included within the Article Library ($500 savings).

Become a SCA Approved Seniors Service Provider. There are several educational programs designed for professional services working the senior marketplace. If you are a current member of any of the listed programs, we will include the Approved Seniors Service Provider badge with your ad placement. If you do not have any of the listed educational programs, you are encourage to identify the best suited program for enrollment. We will add the badge upon your approved completion. Listed education is not required to advertise.